ARe is having a 50% rebate. Get both Spartan books for $7!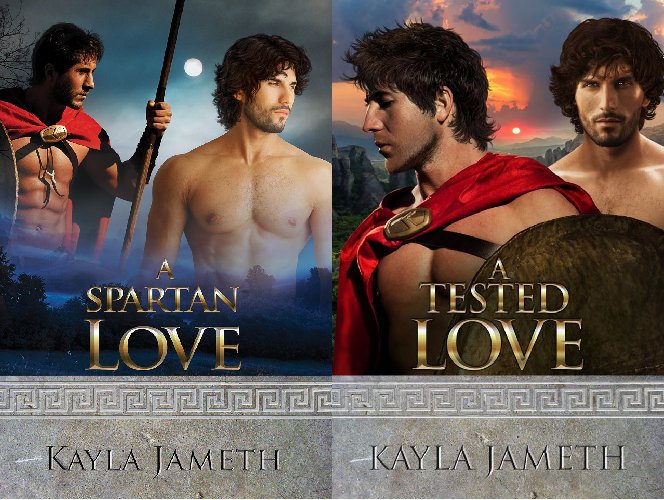 A Spartan Love: Alone, Andreas toils on a remote farmstead for a Spartan overlord. When a kryptes enters his world, Andreas fears for his life. The dread warriors stalk and kill helots—like Andreas' father—as part of their training.

Andreas sees only one way to save himself: he must tame the fearsome warrior.

But what began as self-preservation develops into attraction. Yearning for the company of someone other than his ferret, Ictis, Andreas decides to trust the Spartan warrior and risk the fate that claimed his father.

Born to rule by the sword, Theron sees the world as his and acts accordingly, taking everything Andreas offers and reaching for more. However, love between men in Sparta is considered shameful and requires either exile or suicide to redeem Sparta's honor. Now, only the gods can save them from the terrible price Sparta extracts from men who desire other men.
A Tested Love: Lured by seductive promises, Andreas risked his life to be with Theron, only to find himself betrayed. Abandoned and alone, Andreas resigns all hope of seeing his fierce warrior again and resumes his life as a helot.

All too aware of the harsh punishment Sparta demands of men who love other men, Theron reluctantly surrenders Andreas in hopes of keeping him safe. The warrior returns to Sparta to embrace his destiny in place of the helot he has grown to see as a man, not just a slave. Cold but honorable duty will be his new lover.

Duty proves to be a jealous lover when Sparta demands the final test of Theron's loyalty. Sent to kill Andreas, Theron must find a way to come to terms with his burning desire for his handsome helot before their forbidden love destroys them both.